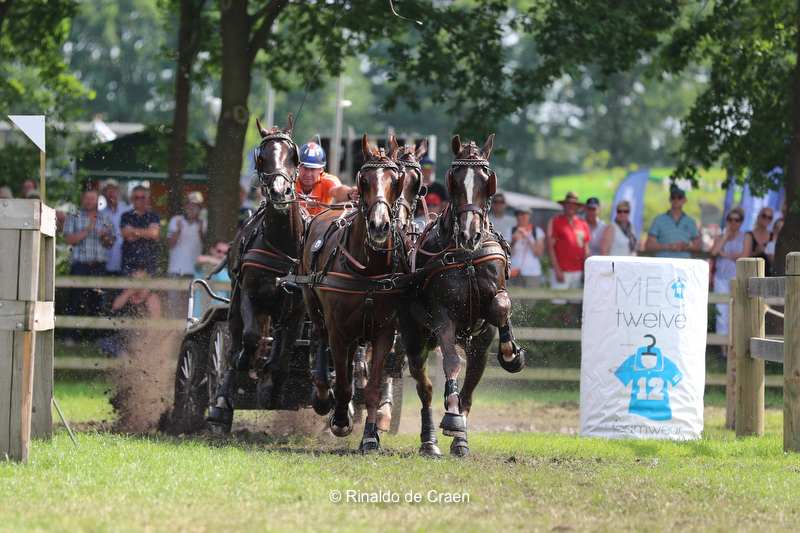 Today the marathon was staged in summer conditions and there was a gentle breeze which made it very pleasant for the public to stay at host Boyd Exell's facility. Many people preferred to visit marathon day in Valkenswaard instead of a day out along the water front and big crowds around the obstacles enjoyed the sport. The obstacles were challenging and the competition was exciting. Mutual differences in time were often small and sometimes mistakes were recorded.
Every obstacle had something special. No less than three obstacles included water, such as the water basin (obstacle 4) as well as obstacle 3 (the Wrigleys chewing gum obstacle) which gave the drivers and grooms a wet suit. That obstacle was built under a bridge with a water curtain which had to be passed several times by the carriages. The public was able to watch the performances alongside the obstacle, but also on top of the bridge which made it very interesting. Obstacle 8 also had water and a few very difficult and short turns, which made it quite difficult.
Previously obstacle 5 was one of the most talked about obstacles. It had a steep climb and bank. But it appeared quite easy for all horses and their drivers. The course also had the traditional indoor obstacle (number 2) in the cool indoor arena.
Pairs
The competition started with the pairs. There were quite a few faults, varying from recovered faults in the course to knocked down balls. Raymond Letteboer was in the lead for a long period, but Tristan Verheijen and Geert Dijkhof were a class of their own. Verheijen, with Carlo Vermeulen as his groom, improved quite a few obstacles obstacle times. Dijkhof was next and was even faster. Verheijen was the fastest in three obstacles and Dijkhof topped this performance with four. He was the only driver to finish in less than 40 seconds in the indoor obstacle 2. "I like indoor marathons," he smiled afterwards. "It didn't feel like I was going fast, the horses were easy to steer, but I had no idea I was winning."
De hovenier uit Klarenbeek was blij hoe zijn paarden liepen. 'Ik vind dat ze hier op stal in een warme stallentent niet zo blij zijn als thuis. Daar lopen ze de hele dag buiten en kunnen ze een keer lekker hun kont uitslaan. Ik ben dus blij dat ze desondanks toch fijn waren in de marathon.'
Sandmann Sprint
Verheijen won an additional prize in the 'Sandmann Sprint'. The drivers had the opportunity to win some extra prizemoney during a sprint on a 100 meter track in between obstacle 3 and 4. Tristan Verheijen finished runner-up. His time of 8.87 seconds won him 600 euros. Switzerland's Martin Wagner won this challenge. He finished in 6.57 seconds and took the 1000 euros first prize.
Four-in-hand
The competition for the four-in-hand drivers was a very exciting one. The mutual differences were only small, so details were important. The starting order for the top drivers of the standings had to be drawn and that was why the dressage winner Boyd Exell was not last to go. The competition was a kind of 'Netherlands-Belgium' and Boyd Exell. Especially when Rainer Duen lost his chances with a fault in obstacle 6. Boyd's round didn't go flawless either. He had some trouble in the water basin and lost seconds. The other obstacles were taken smoothly, but there was no more chance on a victory in the marathon: he finished third. IJsbrand Chardon drove a strong and consistent marathon, he had no problems and finished runner-up. Belgium's Edouard Simonet and Glenn Geerts were also unleashed. Simonet was the best in obstacle 3 and had a smooth marathon and finished fourth. Glenn Geerts was fast, but knocked down a ball at obstacles 3 and was lacking power in the last two obstacles and finished fifth. Due to his result Belgium climbed the Nations Cup standings from third to second place.
Koos de Ronde was last to go and started well. He knocked down a ball at obstacle 3 and almost took a wrong turn at the D-gate. "A real stupid mistake," said De Ronde, who was saved by his grooms. "When I was walking the course I made the same mistake and before I knew what happened my leaders were aheading in the wrong direction. I lost at least 15 seconds. An expensive mistake, but it was my own fault." But after this mistake De Ronde could not be stopped. He had the fastest time in all following obstacles. And what seemed impossible, happened: he won the marathon. "The horses were going smoothly. For the first time Zerino was the right leader in a marathon. We have been practicing at home, but a competition is quite different," he evaluates. "And I am happy with my new marathon carriage. I drove it here for the first time. It has a very good steering system and it enabled me to, for instance, turn very short and stay close to the poles in obstacle 6."
Standings after the marathon
Lars Schwitte is still leading the pairs standings after the dressage and marathon. Geert Dijkhof has climbed to second place after his victory in the marathon and Belgium's Sven Stuyck has moved to third place thanks to his excellent performance in the marathon. Not much has changed in the top of the four-in-hand standings. Koos de Ronde has moved up a few places and takes third place. The Netherlands is still leading the Nations Cup standings.
Tomorrow the cones competition is scheduled at 10 am.